I really have enjoyed this extra long weekend. More on what we did the first half of the weekend later in this post. But...yesterday and today have been perfect. I must say I find it slightly ironic that we spent some time at the cemetery yesterday, honoring our daughter/sister for Memorial Day, and we spent today getting things ready for the new baby. I love the cemetery where we chose to bury her (minus the Sunday Farmer's Markets they hold right outside the gates). They line the driveway with flags and also place them all over the grounds for the patriotic holidays. Emma, as always, picked some of our flowers to leave on Macie's headstone. We wondered what she is doing, and agreed that she is probably spending some time with her little brother, among other things.

Today we found the carseat, put together the crib, and are organizing Tyler's room. We've been busy in there the last week or so, and it looks pretty incredible if you ask me. I have been washing bedding, thinking of cute "boy" vinyl phrases for the walls, and wondering how I'll get through the next 2 months without losing my mind out of sheer worry and panic.

But the first half of our weekend...
Back at the beginning of the year, I made a decision to truly focus on some really exciting things that would be happening in our family. I was determined to enjoy the ride a little bit more and put more of a focus on keeping things fun and exciting - really living in the moment and not just getting through it. And right as summer is about to start, I keep thinking what a really FUN 6-7 months we have had. We went to Disneyland and Legoland (both almost entirely free!), we had a busy and fun Spring Break, I feel like I have cut back on my stress level, and Spencer and I got to travel around Europe (among other things). We still have a few more big events coming this year.

One such occasion happened this weekend. I guess there is something about camping that--when you're a kid--is just magical. I remember loving camping with my family. We eventually got a trailer that made it a little more comfortable, but I would argue that it didn't make it any more fun. And now I don't love camping. I don't love it, but I do love that my kids love it, even though it requires so much work.

This was our 3rd year going camping at the same place. It is the only time we even go camping all year. When we had to make a decision about going this year, it was literally while we were on our way to the airport, about to head off to Europe (we didn't include our kids in the discussion because we knew their thoughts exactly without even asking). One more trip didn't even sound fun at that point. We had a hard time committing, but we finally decided that we had to do it, for the simple fact that the kids LOVE it. Nevermind that I was going to be 7 months pregnant, or that we were slightly sick of traveling. We knew we had to go. For the kids.

And really, Spencer likes this almost as much as the kids do. I like it because nothing makes me happier than seeing my children have so much fun. We were only there 2 1/2 days but that was perfect for all of us. 5 hours of sleep at night and my very swollen ankles reminded me why I really enjoy my own bed. But the Ewok village, the river, the banana slugs, the campfires, the swinging for hours, the s'mores and the solid family time reminded me why we create these experiences for our families. The 8 loads of laundry (and the surprises I find in the laundry), the cleaning of crevices for days, the car sick-ness from windy roads, the bug bites and the pure exhaustion really is all worth it when we look at the pictures and remember the fun. I have a daughter who actually documents things better than I do, and watching her draw dozens of detailed pictures (along with putting our last name on the camping chairs) from camping this weekend, along with lines on the opposite side of the page (for journaling) sealed those sentiments. I would argue that they look forward to this more than Disneyland, and they talk about it more than any other vacations we go on. I guess that's why we create these experiences for our kids, even if it involves a little bit of sacrifice on our part.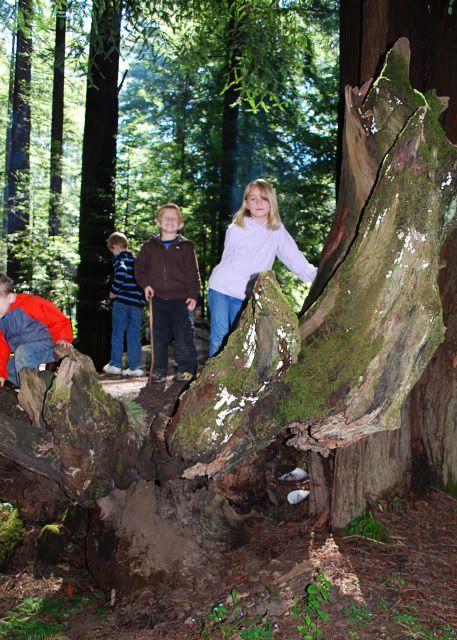 I love the mischievous look on his face, about to squirt the boat full of girls. Well, and Spencer.



Emma was nervous to climb up the log and jump off, and I love seeing the pictures of the coaxing involved, as well as her expressions.


She and Brooke did it together. The dads waited patiently...


Love her face in this one. And Spencer's.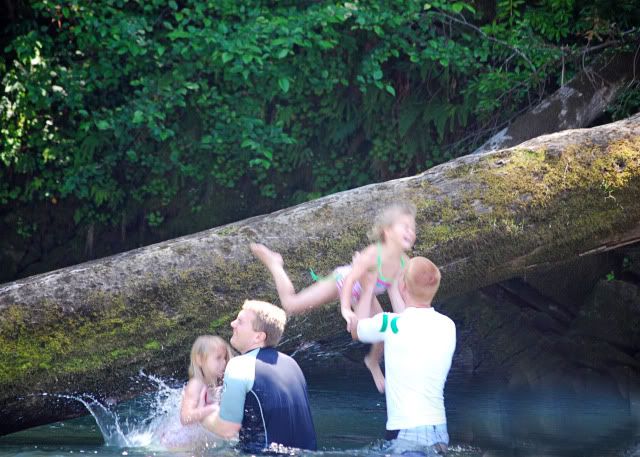 They were so proud.

Being pushed on the swings (and pushing your dad) is always a good time.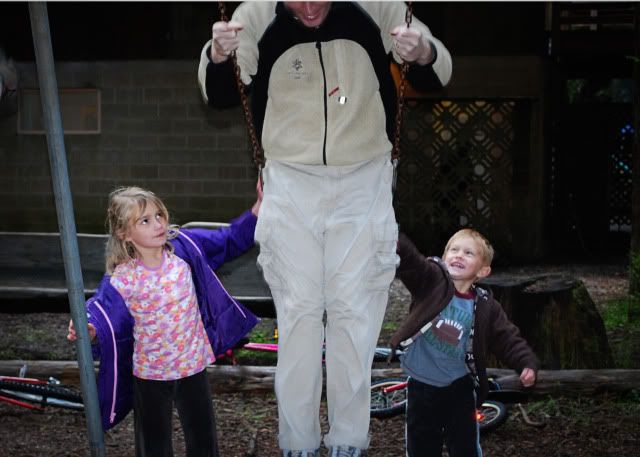 While Spencer was busy playing with the kids, one of my friends said "Your husband is so cute," (meaning, cute in playing with the kids). Spencer more than made up for my slack, and it made his day when Tyler said, "Dad, you're the best." Ahhh, success. And the lingering smell of a campfire.